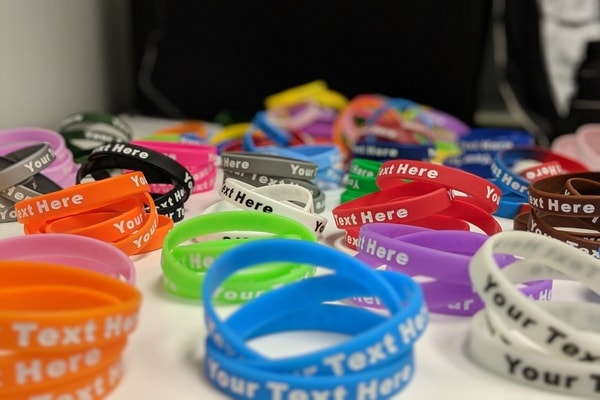 High Quality Custom Wristbands
We offer several different high quality silicone wristband styles that can all be customized to your needs. Each bracelet is made of the same 100% latex-free silicone and it cost effective.
The style varies depending on the messages you create. We have designed over 100,000 unique custom wristbands for our clients. We are fortunate to have a lot of repeated customers.
The Perfect Occasions for Custom Wristbands
Charitable Causes
Fundraising
Political Campaigns
Remembrance
School Events
Birthday Parties
Sport Events
Our custom wristbands are incredibly durable and can last for a very long time. These rubber like bracelets can be easily slipped off and be used for different days. We do not recommend silicone wristbands for concerts or sports events.
Different Types of Wristbands
Printed Wristbands
Our printed silicone bracelets have custom messages screen-printed onto the wristbands. These are our most economical rubber wristband type, but please keep in mind that there is nothing to protect the ink from being worn away by friction (or water/soap), so avoid this style if you plan on wearing your wristband daily or in the shower or swimming pool.
Ink Injected Wristbands
Our ink-injected bracelets are a clear step up from the printed wristbands. They feature a debossed (carved) message that is etched into the band's silicone, then the carving is filled with the ink color of your choice. The etching protects your message from friction and from washing away.
Embossed Wristbands
Our embossed wristbands feature a raised message. This option even allows for braille messages, as your chosen font will be elevated.
Our embossed printed wristbands are the same as our embossed bracelets, but the message gets a colorful layer of ink printed over the lettering to really make it pop even more!
Debossed Wristbands
Our debossed wristbands have messages that are carved into the silicone. These bands and their messages will last for years as there is no threat of being worn away. During the summer days, we noticed that our customers use debossed wristbands as pool tag passes.
Color Coat Wristbands
Our color coat wristbands are cool, dual-layer bracelets that are made using two colors of silicone that are stacked! This allows your message to be etched out of the outer silicone layer so that it shows through in the color of the inner silicone layer.
Blank Wristbands
Our blank wristbands are simple, wordless silicone bands and can be ordered in the color of your choice. These bracelets are helpful for crowd control and group events.
Tyvek Wristbands
We also carry Tyvek wristbands for our customers. Each paper wristband comes perforated in sheets of 10 and each band has a one-time use, peel-off adhesive liner for easy and quick application.
Our Tyvek® paper event wristbands come in many colors and patterns and can be ordered in bulk and shipped out super fast! We do have rush production options for our tyvek wristbands.
What Are Gel Bracelets?
Another name for silicone wristbands are also called "gel bracelet" or "jelly bracelet". Both serve the same purpose of helping raise awareness. It still has the same feel of a rubber bracelet. This gel bracelet has a interesting link to a urban legend myth. They have been popular since the 1980s.
For any custom silicone wristbands questions, please contact us. Our amazing customer service representative would love to help you design the perfect unique custom wristband.